The Best National Parks and Monuments in California
The sheer diversity of landscapes sets California's nine national parks apart. Whether you're seeking a remote island sanctuary, bubbling volcanic hotspots, groves of the tallest trees on earth, granite rock formations, or wild desert, you'll find these and more in the Golden State.
Spread out over 600 miles along the length of the state, getting to all nine parks in one trip would take at least two weeks. With the exception of contiguous Kings Canyon and Sequoia national parks, it's at least a three-hour drive from any one park to another. Fortunately, you can see many of the best on day trips (or overnights) from either San Francisco or Los Angeles. Alternatively, you can experience four or five top parks in a week, on a one-way road-trip from south to north (or vice versa). Start in Los Angeles and head to Death Valley, followed by Sequoia and Kings Canyon, Yosemite, and finally, John Muir National Monument near San Francisco. Early spring is a perfect time to go, when the temperatures in Death Valley are still comfortable, and Yosemite's waterfalls are at their peak.
Before your trip, be sure to order an America the Beautiful Pass, especially if you plan to visit more than one park, and check the parks' reopening status to know what's open or closed.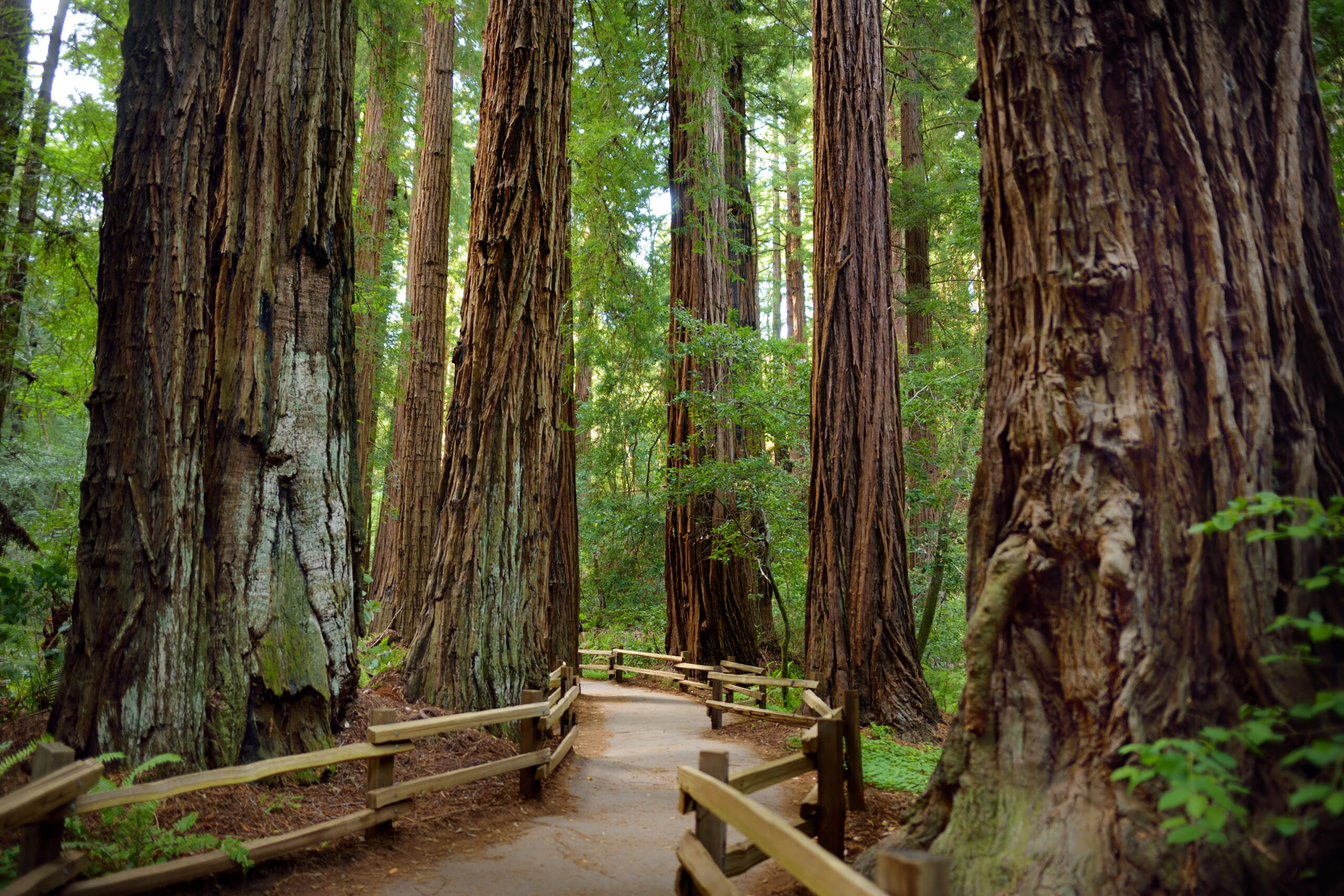 The Best National Parks in Northern California
Temperate Northern California hosts two vastly different national parks: One, with giant redwood trees and rugged coast; the other, with geothermal features and pristine lakes. Stunning national monuments and seashores await besides. It's thebest region to visit if you want to avoid crowds—even in summer.
Redwood National Park
Part of a unique system of state and federal land developed to protect the giant coast redwoods, Redwood National Park shelters some of the tallest trees on the planet. Almost half of the world's old-growth redwoods, including the 380-foot Hyperion Tree—the tallest tree on earth—are found in this coastal park in the far-northwest corner of the state near Oregon. These behemoths live to be centuries old and more—some live 2,000 years. Start at the Prairie Creek Visitor Center before heading out to hike in the redwoods or explore Fern Canyon, whose vertical walls are covered in ferns and moss. Look for accommodations in nearby Orick, Crescent City, or Klamath, as there are no lodgings or campgrounds within the park.
Lassen Volcanic National Park
Consider Lassen Volcanic National Park, 45 miles east of Redding in the north-central part of the state, as California's answer to Yellowstone: a geothermal wonderland of mud pots, hot springs, fumaroles, and sulphur vents. The last time Lassen Peak—the largest lava dome volcano in the world—erupted was in 1914, but the volcanic activity here has never ceased. The best ways to get an up-close view is by hiking the 3-mile round-trip Bumpass Hell Trail or taking a short walk from the Sulphur Works parking lot. Both trailheads are accessible from the Lassen National Park Highway (Highway 89) that winds through the park. Plan on visiting Lassen from spring through early fall, as snow closes the road and many trails in winter.
Muir Woods National Monument
If time doesn't allow for a visit to Redwoods National Park, you can still walk among some of the world's tallest trees at Muir Woods National Monument, just 12 miles north of San Francisco. Adjacent to Mount Tamalpais State Park in Marin County, the coast redwoods at Muir Woods are 400 to 800 years old, and rise up to 250 feet tall. It's an easy day trip from anywhere in the Bay Area, with a number of hiking options and a café that serves food and take-out.
The Best National Parks in Central California
Championed by John Muir and immortalized by Ansel Adams, Yosemite National Park draws visitors from across the state, and the world, to Central California. Home to four national parks, the popular region also includes nearby Sequoia and Kings Canyon, with many similar attractions as Yosemite—granite cliffs, waterfalls, giant sequoias—but far fewer people. Closer to San Francisco, Pinnacles rarely ever gets crowded.
Yosemite National Park
By far the best-known and most-loved park in California, Yosemite lies in the Sierra Nevada Mountains, about 170 miles due east of San Francisco and 280 miles northeast of Los Angeles. "Nowhere will you see the majestic operations of nature more clearly revealed beside the frailest, most gentle and peaceful things," wrote naturalist John Muir of this majestic 761,266 acre park in 1901. Today, it's the fifth-most-visited park in the country, with over 4.4 million visits per year. Tip: Visit Yosemite Valley in the winter for the fewest crowds.
Besides its jaw-dropping waterfalls—Yosemite Falls, Nevada Fall, and Bridalveil Fall are just a few—visitors flock to take in the views of Half Dome and El Capitan, their sheer granite walls rising several thousands of feet above the Yosemite Valley Floor. One of the most-popular day hikes, the Mist Trail, ascends from the valley floor to Vernal Fall (and Nevada Fall above it). The name of the trail says it all: Spray from the roaring falls renders the steep granite steps slippery, especially in spring and early summer. The hike to the top of Half Dome, not suitable for the unfit or faint of heart, is another very popular hike, accessible via lottery system.
Kings Canyon and Sequoia National Parks
If you're looking for a Yosemite-like experience—deep canyons, thundering waterfalls, verdant meadows—without the traffic jams and crowds, head a couple hours south to Kings Canyon and Sequoia National Parks. These adjacent national parks, about 60 miles east of Fresno in the southern Sierra Nevada Mountains, are administered jointly and their combined 867,000 acres are commonly considered one large park. Both are known for their groves of nearly 300-foot tall giant sequoias, two of which rank as the world's largest trees.
Roads lead in to the parks' western edge, but nearly 97 percent of the interior is wilderness, including the western flank of Mount Whitney in Sequoia, the highest peak in the Lower 48. If your time is limited, consider driving the Kings Canyon Scenic Byway (Highway 180), the only road into the canyon, one of the deepest in North America. If you do just one hike, make it Sugar Loop Bowl, for its mix of old and new sequoia groves. Plan your trip to Sequoia with our guide to Sequoia National Park.
Pinnacles National Park
The closest national park to San Francisco (at 125 miles), Pinnacles National Park emerges from the east side of the Salinas Valley, 50 miles southeast of the Monterey coast. The park's impressive spires, cliffs, and boulder formations are the result of a volcanic eruption 23 million years ago. The California condor—nearly extinct 35 years ago—can occasionally be seen soaring above, thanks to the park's unique condor recovery program.
At 26,000 acres, Pinnacles' relatively small size makes it easy to explore in one day, though you can camp overnight. There are two park entrances, one on the west and one on the east, but no road through. To make the most of a visit, plan your visit for fall through spring, as the park can get extremely hot in the summer. Enter from the east on scenic Highway 25, via the Visitor Center and campground, and choose from a number of hiking trails over rugged peaks and through cool talus caves. Despite its proximity to San Francisco, Pinnacles is the least-visited park in California. Plan your visit wisely and you may not see another soul.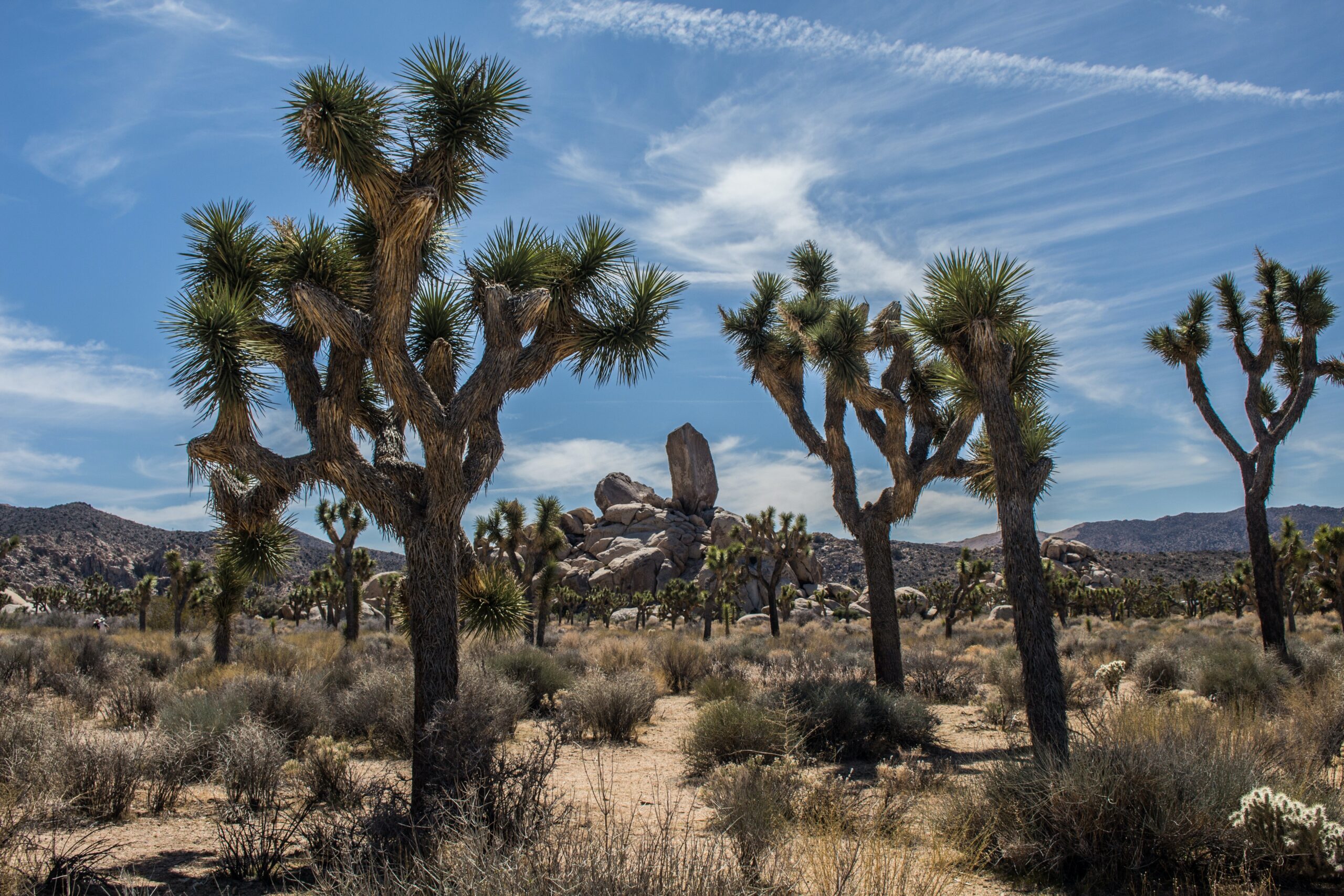 The Best National Parks in Southern California
Sunbaked desert, badlands, dunes, and unique ecosystems await in Southern California's three national parks. Death Valley and Joshua Tree National Parks are almost always too hot in summertime, so visit those from late fall to spring. In summer, head to the coastal Channel Islands instead. Closer to Los Angeles, Carrizo Plain National Monument explodes with wildflowers in spring.
Death Valley National Park
The hottest. The driest. The lowest. The largest. Death Valley National Park is a landscape of extremes, a place like no other in North America. Abutting the Nevada border some 110 miles west of Las Vegas and 215 northeast of Los Angeles, the park receives less than two inches of rain a year and sees triple-digit heat for nearly half of it. In fact, the highest world temperature ever recorded, 134.1 degrees Fahrenheit, was at the park's Furnace Creek headquarters in July 1913.
At 5,270 square miles, Death Valley is the biggest park in the continental United States. You could easily spend a couple of weeks exploring its many far corners. If you only have a day, round-trip tours from Las Vegas hit the highlights like Badwater Basin—at 282 feet below sea level, the lowest point in North America; the Death Valley Scenic Byway; the badlands of Artists Drive; and Devils Golf Course. Plan to spend at least two or three days to explore farther flung features, like Harmony Borax Works, Ubehebe Crater, and the Mesquite Flat Sand Dunes. Ample park lodging and amenities make it easy to spend several days here; reserve ahead, especially for peak spring and fall seasons.
Joshua Tree National Park
Stands of twisting Yucca brevifolia give Joshua Tree National Park its name, but the real draw are the otherworldly boulder outcroppings that lend an almost-extraterrestrial vibe to the park. Climbers from around the world come to test their bouldering and climbing skills here. The park's distance from the lights of Los Angeles (just 127 miles) has also made it popular with star-gazers, especially during periods of meteor showers.
Joshua Tree straddles two deserts, the Colorado and Mojave, and can get very hot in the summer. Plan accordingly: Late fall, winter, and early spring are great months to hike the 7.2-mile round-trip trail to Lost Palms Oasis that begins near the Cottonwood Visitor Center. You can overnight under the stars at a number of park campgrounds. Gateway towns of Twenty-Nine Palms, Joshua Tree, and Yucca Valley host an abundance of hotels and inns, as does Palm Springs, 34 miles away.
Carrizo Plain National Monument
About 100 miles northwest of Los Angeles, Carrizo Plain is a vestige of a California that doesn't exist any more: A vast grassland that covered the Central Valley before it was overrun by development and agriculture. Sometimes called the "California's Serengeti," the desert-like preserve shelters Soda Lake, a 3,000-acre alkaline seasonal wetland. Angelenos come in spring to see the expansive, 204,107-acre plain covered in swaths of orange, yellow, and blue wildflowers.
Channel Islands National Park
The only way to reach any of the five islands that comprise Channel Islands National Park, jutting from the Pacific some 12—55 miles off the coast of Santa Barbara and Los Angeles, respectively, is by boat or seaplane. Once there, however, you can immerse yourself in a region often dubbed "The Galápagos of North America" for the unique plant and animal species that have evolved here in near-complete isolation. Day trips are operated by Island Packers Cruises from both Ventura (near Santa Barbara) and Oxnard (near Los Angeles) harbors. Crossings take one to three hours, depending on which island you're headed to. Once there, enjoy hiking, birding, kayaking, or simply beach-combing with no one else around.