A First-Timer's Guide to Sequoia National Park
Sequoia National Park is a wonderful spot to get a humbling perspective on our place in the natural world. The country's second national park was established on September 25, 1890 to protect the Sequoiadendron giganteum (giant sequoia) from being logged, making it the first national park created to protect a living organism. Today, more than 8,000 giant sequoia trees thrive in the park's Giant Forest alone—with countless more beyond. Seeing these behemoth trees up close is the main reason to visit: Standing in a grove of some of the world's largest trees will leave you feeling small, and in awe.
Colonel Charles Young and his Buffalo Soldiers are to thank for what few roads and trails exist in Sequoia's expansive wilderness. Known as the first African-American superintendent of a national park, Young served as acting superintendent of Sequoia in 1903, in a brief tenure with lasting results. He deployed troops known as Buffalo Soldiers to keep public lands safe from poachers and wildfires. Those same men also constructed vital park infrastructure, including the foundation of many park roads and still in use today.
Sequoia and the surrounding Central California region was also originally part of the California condor's range. Pay careful attention during your visit, and you may spot the largest land bird in North America flying among the giant sequoias. These endangered birds were spotted in the park in late May 2020 for the first time in at least three decades.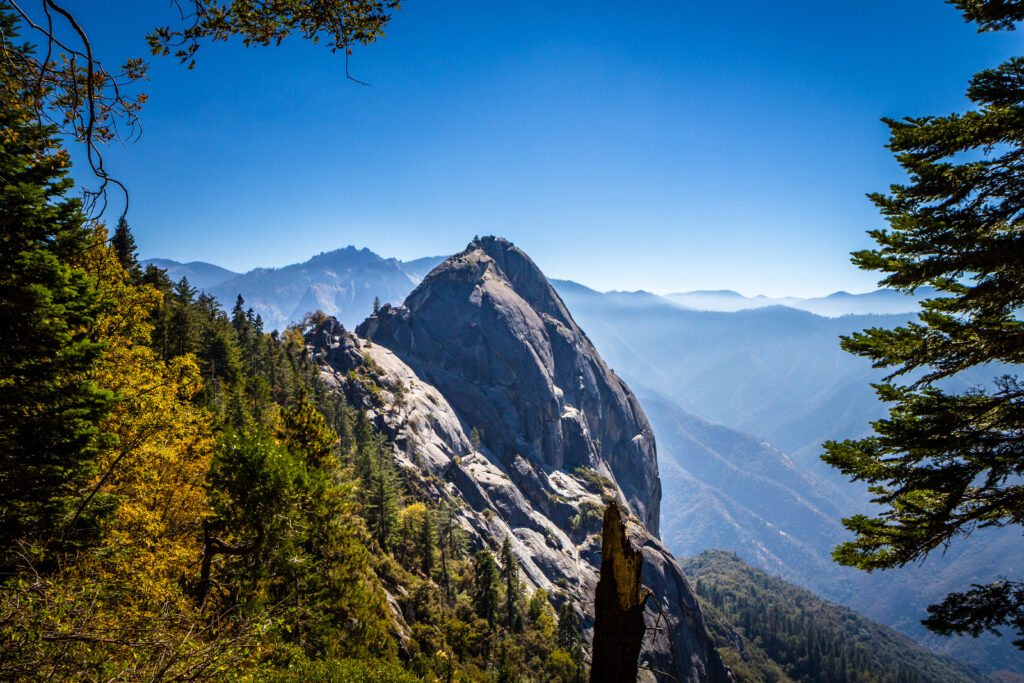 What to Do in Sequoia National Park
Sequoia's 404,063 acres shelter four main areas, each with distinct natural environments: The lush Foothills bloom with spring wildflowers; the Giant Forest and Lodgepole areas protect grand groves of giant sequoias and Moro Rock; and Mineral King, a subalpine valley, teems with granite landscapes and pine and sequoia forests. The one thing not to miss, however, is the collection of trees that give Sequoia its name. Other park highlights will appeal to history, caving, hiking, and mountaineering buffs.
See Sequoia Monarchs
While closely related to the coast redwoods (Sequoia sempervirens) found in Redwood National Park, the giant sequoias here are not the same tree. Coast redwoods are the world's tallest trees—they also need fog to survive, which is why you'll find them within 45 miles of the Pacific Ocean and most notably in Northern California. In contrast, giant sequoias have the largest mass of any tree, and you'll find them growing at elevations between 4,000 and 8,000 feet, on the west slope of the Sierra Nevada.
The most-impressive collection of giant sequoias found anywhere, Giant Forest counts 8,000 trees within its boundaries. Chief among them is the General Sherman Tree, the largest living thing on earth by volume—the tree soars 275 feet into the sky from a base diameter of over 36 feet. It's estimated to be about 2,000 years old, which makes it a middle-aged giant sequoia compared to others in the forest, like the President Tree, believed to be 3,200 years old. Start your exploration at the Giant Forest Museum, then walk along the paths (also suitable for wheelchairs) that include the Big Trees Trail and the General Sherman Trail.
One of the larger meadows in Giant Forest, Crescent Meadow was dubbed "the gem of the Sierra Nevada" by John Muir. A hike on the 1.8-mile Crescent Meadow Loop gives you the opportunity to see springtime wildflowers, Sierra pine woodlands, the Giant Forest, and a vast expanse of ferns.
An even bigger dose of majestic sequoias can be had by hiking the Congress Trail, a two-mile loop that travels through a stand of majestic trees. Two sequoia clusters near the end of the Loop, known as The House and Senate groves, are the most impressive, thanks to their unusually close, and picturesque, groups of smaller trees.
Go Caving and Climbing
Sequoia's draws aren't all overhead. The lowest park attraction is underground: A secret cavern discovered in 1918 that gleams with polished marble and sparking stalactites. Guided 45-minute walking tours of Crystal Cave are offered from late spring through fall. Advance tickets are available online or at visitor centers if not already sold out. Bring a jacket with you as it gets quite cool inside.
The tallest mountain in the lower 48 states, 14,494-foot Mount Whitney rears up on the boundary of Sequoia National Park and Inyo National Forest. Climbing here is serious business. If you're not an experienced mountaineer, it's still quite possible to explore on a day hike along parts of the Whitney Trail, a long, out-and-back trail that hikers can explore in sections. If you just want a good view, head to the Interagency Visitor Center on Highway 395, south of the town of Lone Pine.
An easier climbing option is the park's 6,725-foot Moro Rock, accessed via a series of ramps and staircases. From the top of its bald granite dome, you can view the Kaweah River gorge, the Generals Highway, and the Great Western Divide.
Hike the Park
Sequoia is a true hiker's park: The majority of the park is backcountry, with few park roads. While several popular trails are easily accessible on a short visit, you'll need—and want—to hike to reach deeper areas.
A favorite hike that's doable with more time, the moderate seven-mile (round-trip) Lakes Trail gradually rises from the Wolverton Picnic Area trailhead, cutting through woods of mixed conifers that open to reveal the park's granite Watchtower. From the Watchtower itself, set high above the Marble Fork of the Kaweah River, take a breather and enjoy the grandeur of the High Sierra, from the canyon of the Kaweah to the peaks of the Great Western Divide.
Where to Stay in Sequoia National Park
Sequoia boasts an impressive array of lodging choices for a park of its size, with multiple campsites in different environments, fully equipped park lodges, and unique cabin and tented camp stays to choose from.
Campgrounds
The park's seven campgrounds range from drive-in to walk-in, well-equipped to primitive, and riverfront to higher elevation. In the Foothills, three campgrounds sit along the Kaweah River: Potwisha Campground and Buckeye Flat Campground both lie in tree groves at the Middle Fork; the aptly named South Fork Campground sits on the river's South Fork. Two more campgrounds, Lodgepole Campground and Dorst Creek Campground lie closer to Giants Forest.
The park's highest-elevation campgrounds, Atwell Mill Campground and Cold Springs Campground, are found in Mineral King and are open in summer only. The road that accesses this area doesn't connect directly to park itself, so you'll have to backtrack and drive a different road to access the main park road to see top attractions like Giant Forest. Be sure to check what campgrounds are open before you go.
Lodges and Resorts
Sequoia's one park-managed lodge, the 102-room Wuksachi Lodge, is set in the Giant Forest area, near General Sherman and hiking trails to Lodgepole, Cahoon Meadow, and Twin Lakes. Open year round, its amenities include a restaurant and cocktail lounge. In the Mineral King area, Silver City Resort is a family-owned historic retreat with off-the-grid cabins for relaxing in nature.
Tented Camp
If the wilderness calls, and you're up for a seven-hour moderate hike to your lodging, consider Bearpaw High Sierra Camp's unique tented lodging, set on a granite saddle overlooking the Great Western Divide, 11.5 miles into designated national park wilderness (open June to September only).
Plan Your Trip to Sequoia National Park
---
COVID-19 Opening Status
Sequoia National Park is open. However, certain parts of the park, namely The Mineral King area and some wilderness, remain closed due to wildfires. Check the park website before you go for current conditions and updates.
Getting Here and Around
Sequoia National Park is located in Central California, about 80 miles east of Fresno, on Highway 180. You can also reach the park from farther south, via Visalia on Highway 198. Kings Canyon National Park is adjacent to the north boundary of Sequoia; the two parks have been jointly managed since World War II and are often explored as one. Driving from Lodgepole in Sequoia to Grant Grove in Kings Canyon, you'll also pass through the adjacent Giant Sequoia National Monument, administered by the U.S. Forest Service.
When to Go
While Sequoia National Park is open year-round, summer is the best time to go, as the weather is most stable from June through August. Spring wildflowers pop in June and the giant groves provide wonderful shade in summer. Starting in September, expect reductions in some facility hours and ranger-led programming. Winter often brings snow, and snow chains or tires are required to safely navigate park roads.
Sequoia Itineraries
If you only have one day, you'll need to start your day early to pack in three park highlights. Your first priority should be the Giant Forest and the General Sherman Tree. From there, take a short hike to Crescent Meadow and take a big breath of fresh air among the wildflowers and ferns. End your day by hiking to the summit of Moro Rock, for spectacular views.
With more time, check into one of Sequoia's many campgrounds or lodgings for an overnight or more. A visit to Crystal Cave should be on any expanded itinerary, so do reserve your tickets before you arrive. And plan to hike some more—whether the foothills, sequoia groves, or mountainous trails call to you. Don't miss the atmospheric Lake Trail to the Watchtower.
Download Before You Go
Cell service is limited here. Before you go, download the Sequoia and Kings Canyon National Parks' official National Park Service App (from Apple's App Store or Google Play Store) to make the most of your trip. Be sure to also download offline content ahead of time, to get park information when you're out of cell and WiFI range.