9 Amazing Scenic Drives in National Parks
Coursing through eight national parks and one national forest, the sheer variety of scenery on these nine scenic byways—desolate deserts, molten lava fields, lush mountain ranges, and more—will take your breath away. So gas up the car, crank up the playlist, and enjoy the ride. And check the reopening status of your favorite park before you go, to make sure you can visit responsibly.
1. Arches Scenic Drive
Arches National Park, Utah
The canyon drive at Utah's Zion National Park may be more popular (and also more crowded), but the landscape on the main road at Arches National Park, also one of Utah's "Mighty 5" parks, is far more expansive. Evoking a dreamy road trip on Mars, the 36-mile round-trip route delivers cinematic views of the park's peculiar geological features. Plan on two or three hours to take it all in.
When to Go: Plan your visit for winter, as the park is busiest from March through October. Bonus: The sight of snow on the red rock formations is out of this world.
Don't Miss: Take Windows Road, a short spur off the main road, to see some of the park's largest arches, including Double Arch, Turret Arch, and North Window. Another spur accesses the hiking trail to iconic Delicate Arch, recognizable as the background image on most Utah license plates.
2. Death Valley Scenic Byway
Death Valley National Park, California and Nevada
With nearly 1,000 miles of paved and dirt roads, Death Valley offers more miles of road than any other national park in the United States. If you only have a morning or afternoon, start near Olancha, California, for a manageable two- to four-hour drive along the Death Valley Scenic Byway (aka Highway 190). The 81-mile road dips below sea level and includes highlights like Father Crowley Vista Point and Zabriskie Point. The park's infamous badlands and distant mountains form an unforgettable vista, especially at sunrise or sunset.
When to Go: Avoid summer—unless you want to experience the hottest place in North America at its most broiling (temps regularly hit 110F and above.). Go in spring instead, when blooming wildflowers dot the desert landscape.
Don't Miss: The nine-mile detour along Artist's Drive, named for the eye-popping colors formed from oxidized metals that shade the surrounding mountainsides, is a must. Stop at Artist's Palette for one of the park's best photo ops.
3. Tamiami Trail
Everglades National Park and Big Cypress National Preserve, Florida
This two-hour drive on U.S. Hwy 41 between Miami and Naples takes you through the heart of the Everglades, the largest subtropical wilderness in the United States. Traveling from east to west, you'll see alligators and wading birds congregating in the canal that runs along the highway's north side. Scenic stops along the way offer even better wildlife-viewing experiences.
When to Go: The summer wet season is the best time to view alligators. Visit between November and March to avoid extreme heat, humidity, and mosquitos.
Don't Miss: The three-mile loop from the Oasis Visitor Center, about halfway between Miami and Naples.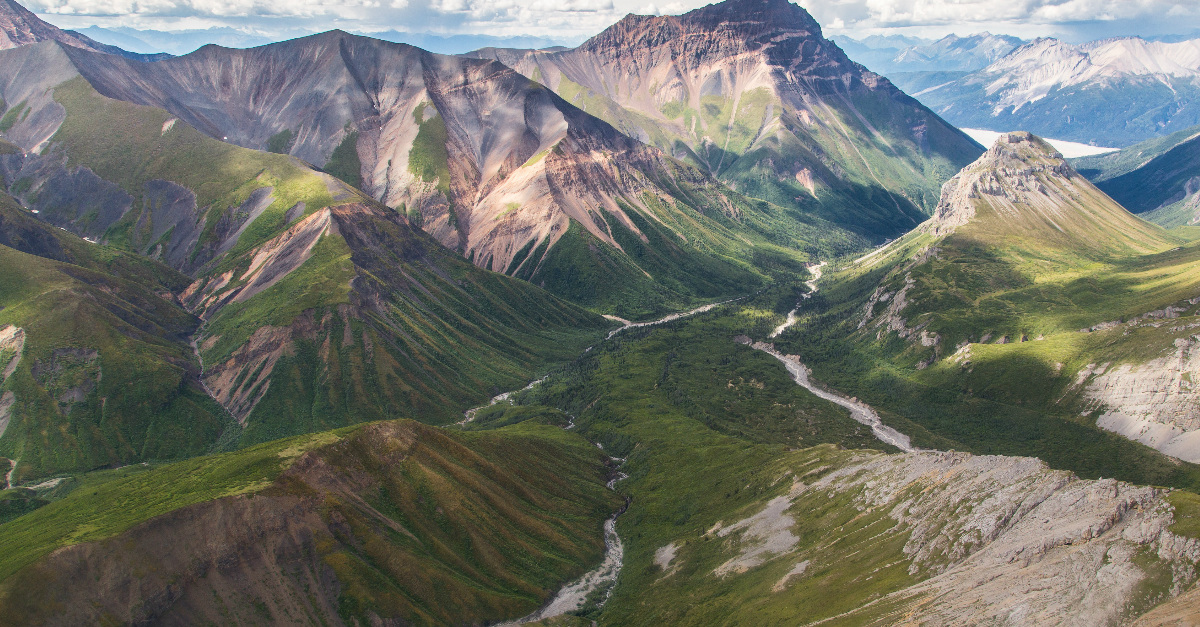 4. Going-to-the-Sun Road
Glacier National Park, Montana
Designed to blend into its rugged mountain setting, this 50-mile road has been awing motorists with breathtaking vistas of jagged peaks, roaring waterfalls, and icy glaciers since 1932. Many of the park's namesake glaciers have disappeared due to climate change, but you'll still spot plenty of mountain goats and bighorn sheep, especially near Logan Pass.
When to Go: The road's Alpine portions are usually fully open and cleared of snow from late June or early July through late October. While summer months are the best times to visit, the park is less crowded in September and October.
Don't Miss: Jackson Glacier Overlook, on the east side of the road between Logan Pass and St. Mary Village, is the best opportunity to see a glacier from the road.
5. Cades Loop Road
Great Smoky Mountains National Park, Tennessee
Winding through the verdant forests of America's most-visited national park, this picturesque 11-mile loop on the Smokies' Tennessee side may seem short, but you'll need between two to four hours to take it all in. Travel is slow along the one-lane road and the many historic Southern Appalachian buildings alongside—barns, log homes, churches, and a working water-powered mill, included—invite exploration. Slow down even further by biking or walking the loop, especially on summer Wednesdays from mid-June to late September, when the road is closed to car traffic. Kids will enjoy spotting white-tailed deer, black bears, coyotes, raccoons, and other animals.
When to Go: The loop is packed on weekends during summer and fall. Go on a weekday in October to avoid traffic and experience peak foliage.
Don't Miss: For an uninterrupted scenic drive between two national parks, head northeast along the Blue Ridge Parkway, which links the Smokies with Shenandoah National Park in Virginia, about 469 miles away.
6. Chain of Craters Road
Hawaii Volcanoes National Park, Hawaii
Feeling the heat from an active volcano can be a humbling experience. One of the best places to encounter flowing lava is at the end of Chain of Craters Road at Big Island's Hawaii Volcanoes National Park. The winding 19-mile road begins off Crater Rim Drive, 3.3 miles south of the Kilauea Visitor Center, and offshoots access dormant lava flows, pit craters, and vistas of plumes from lava tubes. Just be sure to check the road is indeed open before you go: It's been submerged by lava flow countless times since its construction in 1928.
When to Go: The road tends to be less crowded in spring and fall, when the Big Island receives fewer visitors and the weather is just as pleasant. Go after sundown to see the fiery orange lava glow in the dark.
Don't Miss: Connect to 10-mile Crater Rim Drive and stop at the Kilauea Overlook to see the pluming steam vents of the Halemaumau Crater in the massive Kilauea Caldera. Then stop at the Puʻu Puaʻi Overlook to view the smaller Kilauea Iki Crater and its surreal rock formations.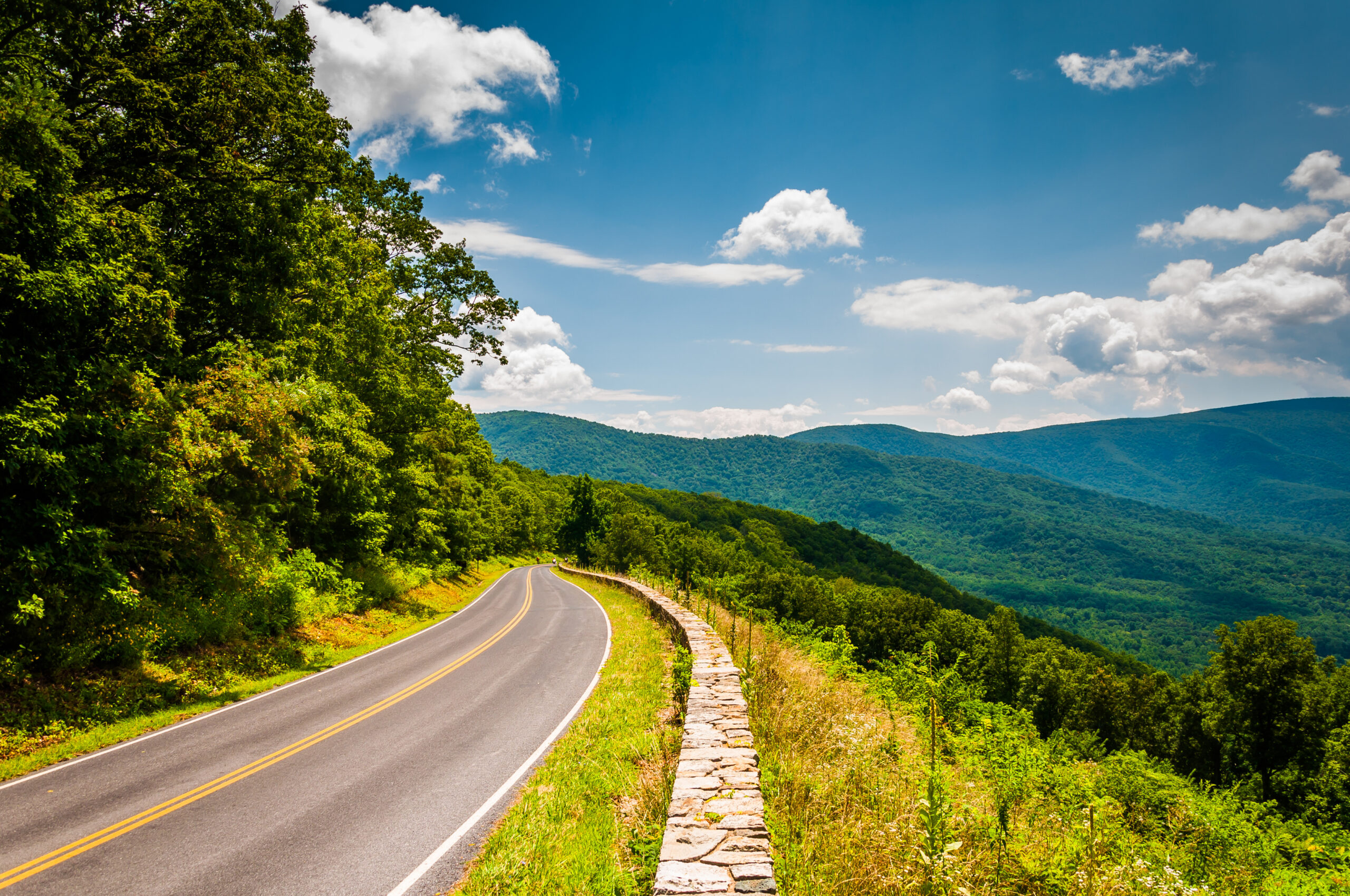 7. Skyline Drive
Shenandoah National Park, Virginia
Running for 105 miles along the crest of the Blue Ridge Mountains, Skyline Drive offers nearly 70 overlooks with spectacular views of Shenandoah Valley to the west and the rolling hills of Virginia's Piedmont region to the east. Heading south, the drive connects with the Blue Ridge Parkway, so you can enjoy panoramic views all the way to Great Smoky Mountain National Park in Tennessee, about 469 miles away.
When to Go: Snowy valley vistas revealed through barren tree branches make winter an unexpectedly beautiful (and uncrowded) time to visit. Skiing, snowboarding, and other winter sports can also be enjoyed just outside the park.
Don't Miss: In winter, you'll have a better chance of seeing (or tracking in the snow) foraging deer, turkeys, foxes, and bobcats. After a heavy snow, try snowshoeing up the Ridge Trail, accessible in the Old Rag area of the park.
8. Kings Canyon Scenic Byway
Kings Canyon National Park, California
Set along the last 50 miles of Highway 180, this scenic byway begins in the Sierra Nevada foothills outside Fresno and zigzags through the Grant Grove area of Giant Sequoia National Monument, before ending near the Cedar Grove area of Kings Canyon, at a place appropriately called Road's End. Along the way, stop to admire mighty Kings Canyon itself—a spectacular gorge which, at 8,200 feet, is deeper than the Grand Canyon. Before you go, download the park's app to make the most of the drive, as cell service is limited here.
When to Go: Go in May or June for ideal weather, less-crowded roads, and spring waterfalls roaring with freshly melted runoff.
Don't Miss: If you have an extra hour or two, take Highway 198 another 30 miles south from Grant Grove Village to reach General Sherman Tree—touted as the world's largest tree—in neighboring Sequoia National Park, one of our favorite national parks to visit in summer.
9. Peter Norbeck National Scenic Byway
Black Hills National Forest, South Dakota
Comprising Iron Mountain Road, Custer State Park's Wildlife Loop, and the Needles Highway, this 66-mile byway 75 miles west of Badlands National Park passes through through the gorgeous Black Hills region of South Dakota. The astounding national forest here—picture ponderosa pine, granite-walled tunnels, and rolling grasslands—harbors bison, antelope, elk, and coyotes en-route to the iconic Mount Rushmore National Memorial.
When to Go: Roads are often packed with motorists in the summer (the Sturgis Motorcycle Rally draws thousands of bikers in early August) and spring can be wet and cold. Aim for September or October, when fall colors are on full display.
Don't MIss: Spiraling up the mountainside along Iron Mountain Road, three tunnels perfectly frame Mount Rushmore. Park in the scenic overlook west of the main entrance to Mount Rushmore for a startling profile of George Washington's face.
Have more time? Try the perfect road-trip to visit every national park in the contiguous United States.
Be prepared for any road trip to America's National Parks with our best-selling Explorer Pack Bundle. National Geographic will help you dive deep in trip planning, providing a unique take on the road less traveled to get there.