9 Out-of-this-World National Parks for Stargazing
When we plan trips to U.S. national parks, we often base our decisions on proximity, access, and how awestruck the landscapes may make us feel. We often forget that a national park's highlights can include the starry wilderness of the night sky, especially in parks located away from urban light pollution. A dozen national parks are certified Dark Sky Parks by the International Dark Sky Association for their exceptional quality of starry nights and a protected nocturnal environment. We've hand-picked the top nine to make the most of your next night visit, complete with ranger led astronomy tours, astronomy festivals, and even Night Explorer patches for junior park visitors.
While many astronomy tours and events have been cancelled this year due to Covid-19, you can still experience many parks' incredible night skies on your own, especially by camping overnight. Wherever you go, be sure to check individualpark websitesfor the most up-to-datepark opening information.
Arches National Park, Utah
More than 2,000 eroded sandstone arches draw visitors to Arches by day, but the dramatic geological foundations here look even more incredible under a vast array of nighttime stars. Escape the lights of Moab by avoiding the park's extreme southern region and concentrate your night-sky viewing in places like The Windows Section, Garden of Eden Viewpoint, and Balanced Rock Picnic Area instead. Ranger-led stargazing programs during the new moon in spring and fall take place at Panorama Point or the visitor center. Some astronomy events are rotated between Arches and its sister park, Canyonlands, another certified Dark Sky park, 30 minutes away.
Grand Canyon National Park, Arizona
It took three dedicated years of retrofitting park lights for Grand Canyon to graduate from Provisional Dark Sky status to certified Dark Sky Park in 2019. The park becomes a magnet for astronomy fans each June, when its annual, week-long Star Party includes stargazing, constellation talks, ranger-led tours, and night-sky photography workshops. On the popular South Rim side, Lipan Point and Yavapai Point are both well-known favorites for gazing at the dark sky. For fewer crowds, head to the lesser-visited North Rim, where the best star viewing happens along the paved trail at Bright Angel Point.
Black Canyon of the Gunnison National Park, Colorado
This far-flung park is a five-hour drive from the closest international airport in Denver and sits far back from major interstates—chief among the reasons it's one of the country's least-visited national parks. A beloved annual astronomy festival takes place every June along the South Rim. Park rangers and members of the Black Canyon Astronomical Society also provide astronomy programs throughout the summer. On the South Rim, admire the night sky from Chasm View, Dragon Point, or Sunset View. On the North Rim, head to Kneeling Canyon View or Chasm View Nature Trail for optimal viewing spots, shielded from passing headlights.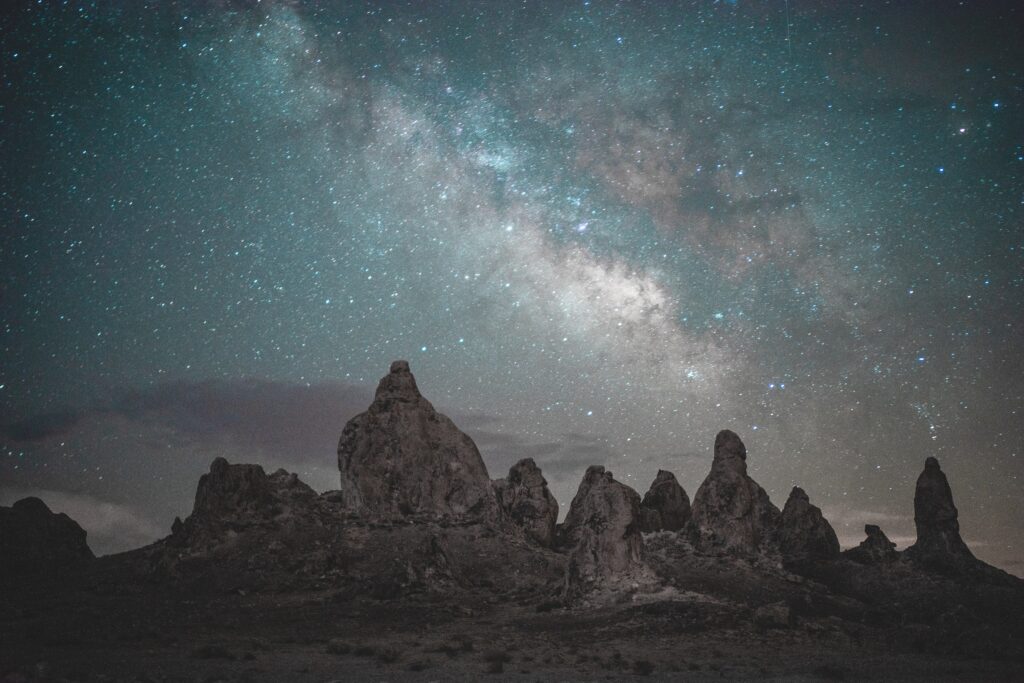 Starry skies over Death Valley National Park, which holds an annual astronomy festival in winter.
Death Valley National Park, California
With 3,422,024 acres, Death Valley is the largest U.S. national park outside Alaska, so it's no surprise that it's also the largest Dark Sky Park in the country. Due to extreme summer heat, this California national park's annual Dark Sky Festival is held in winter (bring a jacket), complete with a roster of stargazing, lectures, and astrophotography workshops. The remote salt flats of Badwater Basin provide a dramatic contrast to the star-studded night sky for many photographers. The basin's remoteness also allows intrepid stargazers to largely avoid nighttime crowds. Closer to park lodging, Harmony Borax Works boasts an open expanse of sky fabulously unencumbered by mountains.
Big Bend National Park, Texas
As the song goes, "the stars at night are big and bright, deep in the heart of Texas." Big Bend is located along the southern border of the state, with some of the darkest skies in North America. Rangers lead night-sky interpretive programs, from moonlight walks during the full moon to star parties when darker skies dominate. The park's landscape doesn't get in the way of sky viewing, and the Chisos Mountains provide a dramatic backdrop. Two of the park's best spots for starscapes, Santa Elena Canyon Overlook and Mules Ears Viewpoint, are easily accessed from the park's Ross Maxwell Scenic Drive.
Bryce Canyon National Park, Utah
It's hard to imagine geographic features more bewitching than Bryce Canyon's red rock hoodoos, but once you see them in the light of the silvery Milky Way, you may never return to this park again in daylight. Here, astronomy rangers offer close to 100 astronomy programs each year, including stargazing with park-provided telescopes. An annual astronomy festival adds workshops and a "Star Lab" Planetarium. For optimal stargazing without a park guide, head to the Natural Bridge Overlook (adding another feature to the view), Inspiration Point, Sunset Point, or Sunrise Point, with its wide-open vistas over the Bryce Amphitheater.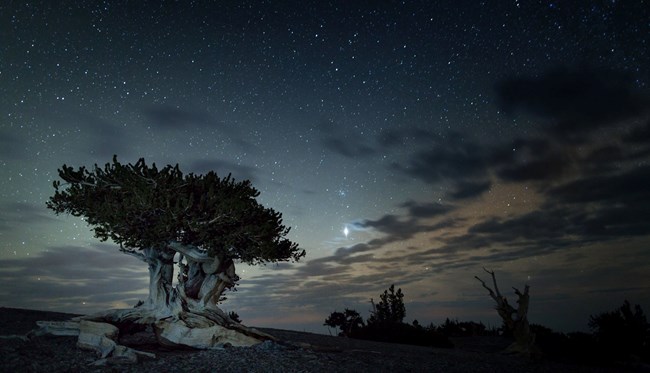 Starlight nigh sky over one of Great Basin's ancient old bristlecone pines.
Great Basin National Park, Nevada
Far from the bright lights of Las Vegas, this stargazing destination is home to the Great Basin Observatory, the first research-grade observatory built in a U.S. national park. On select summer Friday and Saturday evenings, you can ride with park rangers in search of dark sky views aboard the Great Basin Star Train, pulled by vintage diesel locomotive from the nearby town of Ely—reserve ahead, it can sell out a year in advance. Or, come for the annual Astronomy Festival in September to fully immerse yourself in the park's phenomenal stargazing. You can also lead your own star tour anytime, by heading pretty much anywhere in the park after sunset and looking up. With a visitor count of just 131,802 in 2019, there's an excellent chance you'll be able to appreciate the park's sweeping night skies with no one else around.
Great Sand Dunes National Park and Preserve, Colorado
This southern Colorado national park tucked along the base of the Sangre de Christo Mountains contains the tallest dunes in North America. The park's combination of dry air, minimal light pollution, and high elevation makes it ideal for getting that perfect view of the Milky Way. While visitors of all ages flock here, those aged 5 to 12 are in for a special treat: They can become a Junior Ranger Night Explorer and earn a Night Explorer patch during their visit. Night sky programs with telescopes are offered by ranger guides in summer. Afterwards, all you have to do is hike a short distance into the dunes to get your own star show.
Joshua Tree National Park, California
Some people come to Joshua Tree for its giant branching yuccas that look like Dr. Seuss' creations, but stay past sunset and you'll be rewarded with a very different view. Joshua Tree's lesser-known eastern wilderness area is the best part of the park for stargazing, as there's less light pollution from getaway towns and other iconic desert plants (like ocotillo, cholla cactus, cottonwood trees, and California fan palms) dominate the Mojave Desert landscape. Rangers host regularly scheduled night-sky programs, and an annual Night Sky Festival every fall, which includes a Star Party with more than 20 telescopes, constellation tours, astronomy lectures, and solar viewing.