The 5 Most Dog-Friendly National Parks in the U.S.
Planning a National Park getaway with your four-legged friend? Most parks tend to only allow dogs in developed areas, such as picnic areas and drive-in campgrounds. A handful, however, allow dogs on miles of trails, at multiple campgrounds, and even offer pet-friendly park lodges—so long as they're on a leash. Head to one of these dog-friendly national parks for quality outdoor time with the whole family and follow our tips to make the most of your visit. 
1. Acadia National Park, Maine
---
One of the most dog-friendly National Parks in the system, dogs at Acadia have access to 100 miles of hiking trails and 45 miles of carriage roads. They can also join you on day hikes on Isle au Haut, to take in the views from the top of Acadia's Cadillac Mountain. The park's Blackwoods, Schoodic Woods, and Seawall Campgrounds all accept dogs.
2. Cuyahoga Valley National Park, Ohio
---
The lush Cuyahoga Valley between Cleveland and Akron, Ohio, was designated a national park in 2000—protecting its unique ecosystem of wetlands, limestone ledges, and waterfalls, including its most famous chute, the 65-foot Brandywine Falls. This outstanding dog-friendly park welcomes pets on over 110 miles of trails, including several off the Towpath Trail, and for overnight camping at Stanford Campground, too.
3. Grand Canyon National Park, Arizona
---
Fido can hike Grand Canyon National Park with you, on trails above the South Rim Trail that runs the perimeter of this wonder of the world. On the North Rim, pets are allowed on the greenway that connects the North Kaibab Trail with the portion of the Arizona Trail north of the entrance station. Several campgrounds on the south side also welcome dogs, including Mather Campground, Desert View Campground, and Trailer Village. You can also board your dog at South Rim Kennel, should you wish to hike the canyon's depths.
4. Shenandoah National Park, Virginia
---
Just 75 miles outside of Washington, D.C., Shenandoah National Park offers dogs access to almost all of the park's more than 500 miles of hiking trails in the incredible Blue Ridge Mountains. Pooches are also welcome to stay at any of the park's campgrounds. Big Meadows Lodge, Skyland, and Lewis Mountain Cabins also offer pet-friendly lodgings.
5. Yosemite National Park, California
---
Your dog will love the views in California's High Sierras and enjoy talking walks in Wawona and Hodgdon Meadow at Yosemite National Park. Dogs are allowed on paved roads, sidewalks, and bike paths, and also welcome at most campgrounds, with the exception of walk-ins and group sites. Yosemite typically offers kennel services during peak months, from May to September (call 209/372-8326 for details), which is especially convenient if you want to hit the park's off-limit trails.
Dog-Friendly Park Tips:
---
Ensure your dog's leash is 6-feet-long or less
Bring enough water for you and your dog
Pack enough food for your dog
Bring paw pads for unpaved trails
Don't leave your dog unattended
Pick up after your dog and leave no trace
Be on the alert for wildlife, poison ivy, and ticks
Dog Pack Essentials
---
Turn your weekend dog walking sessions into an adventure with CAMP's dog pack essential list. Sleeping under the stars with your pooch never felt so good.
Collar with tags + Leash
Sleeping pad + Blanket
Lightweight food + lots of treats
Water filter + Water bowl
Toiletry bag w first aid kit + Dog towel
Pet waste bags
For all day everyday protection against the elements, check out our new National Park inspired Ban(dan)a Collection.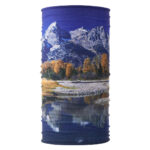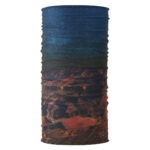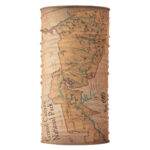 Let's band together to protect ourselves, protect each other and protect public lands. 10% of proceeds go to National Park Conservation & Education.